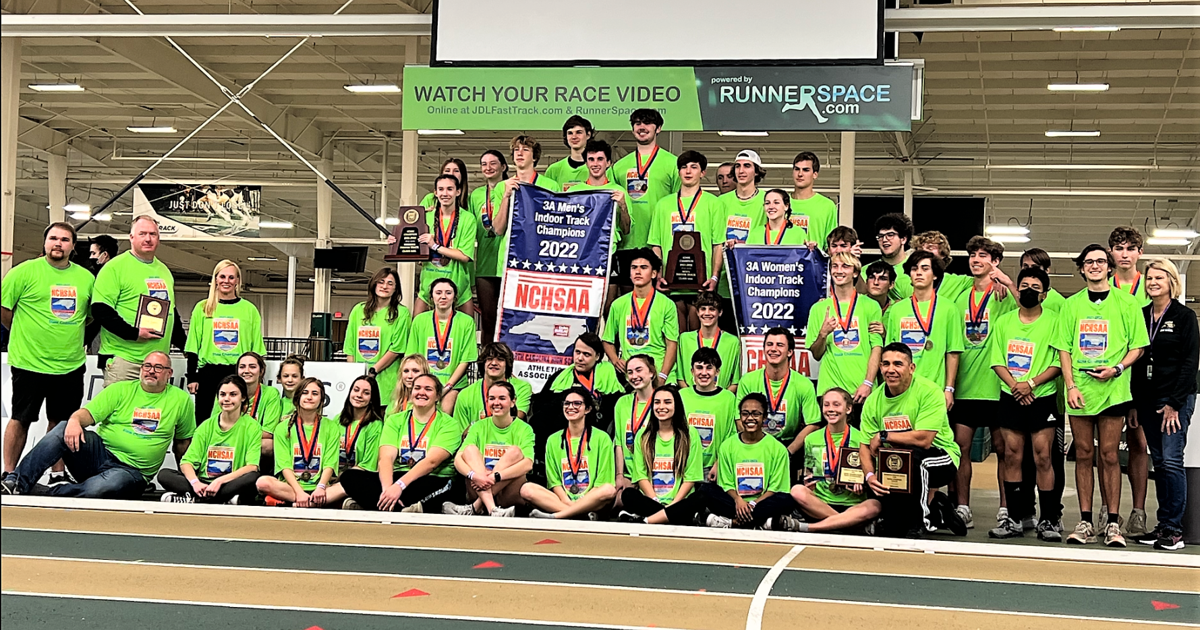 Croatan Sweeps 3A State Indoor Track and Field Team Championships | Sports
WINSTON-SALEM — Croatia's indoor athletics teams accomplished something they could never have accomplished in 2A at the 3A state meeting on Saturday.
After moving up a division following a realignment, the Cougars controlled their new competition by winning the girls' and boys' state championships.
No school had won the state titles since 2015. Croatan pulled off the feat as the girls won their first-ever state crown.
"We talked to the girls about making history," said Croatian assistant coach Rico Quispe. "They could be part of school history for years to come. It's super sweet that they both win because the girls work so hard too."
The girls had come close to a crown in previous years, dropping two points in 2018 to clinch second place. They have now placed in the top five at state meetings in six of the past seven years, including a third-place finish in 2015.
The boys have also finished in the top five in six of the last seven years. They won back-to-back state championships in 2018 and 2019. There was no state meeting in 2021 due to the changed schedule of the coronavirus pandemic, so the Cougars have now won three of the last four titles.
"It was a great meeting," said Croatian assistant coach Andy Bulfer. "Everywhere we thought we should have scored, we did and that doesn't usually happen."
Both teams won by more than 20 points.
The girls accumulated 72.5 points to surpass district rivals West Carteret on 49. The boys scored a total of 73.5 points to edge Dudley on 52.
The girls won behind the 30-point performance of Navaya Zales, who was named Most Outstanding Performer with four medals. She also received the meeting's Sportsmanship Award.
The senior was brilliant that day, taking the 1,600 meters and setting a new 3A state competition record with a time of 4 minutes 59.99 seconds. Her finish replaces the previous mark of 5:00.71 set by TC Roberson's Elise Wright in 2018.
Zales also won the 1,000 meters, cutting the ribbon in 3:05.77.
She joined Alyssia Trigleth, Logan Besemer and Janelle Ketner in the 1,600m relay to finish second in 4:15.90, less than seven tenths of a second behind West Carteret.
"Navaya was on fire," said Quispe. "She did the heavy lifting for us. But it was definitely a team effort. All of our girls may not have placed, but their points were important."
The 3,200m relay team of Cameran Ladd, Audrey Kirkwood, Ayla Zales and Ketner finished second in 10:33.02.
The 800 meter relay Paige Merrell, Trigleth, Besemer and Ketner finished fourth in 1:53.62.
Cailin Ames took home a bronze medal in the shot put with a 34-foot push.
Kirkwood was fifth in the 500 meters in 1:29.29.
Ginger Hayden finished fifth in the triple jump with a jump of 34-0.5 and seventh in the long jump with a jump of 15-08.5.
Jadyn Melby was sixth in the pole vault, by an 8-0 margin, and Trigleth was sixth in the 300 meters in 46.24.
Merrell was seventh in the 55 meter hurdles in 9.90.
"We knew we could do it," said Quispe. "Everyone just had to perform to give us the points we needed. We weren't very confident, but we were confident that we could do it. West was very close to us as we walked in. In the virtual encounter, they were four points away. We wanted everyone to be placed where they were placed or do a little better."
The guys won the championship despite collecting only one gold medal.
AJ Matas won the shot put with a 50-1:75 shot. Teammate Will Rouse was third with a 47-09.25 and Matthew Finiizio was ninth with a 41-05 throw.
"The dream was to do one-two, but one-three was great," said Bulfer. "The guy who came second probably threw it two to three feet further than he had all year. That's what happens sometimes at state meetings."
The team also had three athletes finish in the top six in the pole vault for a huge points tally. Jack Daffron finished second with a 12-06 jump, Zach Pruett finished fourth with a 12-0 margin, and Ben Futral finished sixth with an 11-06 high.
"We knew pole vaulting and throwing were two areas where we could score big," Bulfer said. "But the pole vault is usually a wild card in big competitions like this. In this case, sometimes it's all or nothing. If it goes the other way around, you can get away without points. These guys did great."
Two relay teams finished as runners-up and one was one step away from gold.
The 3,200m quartet of Sean Manning, Cooper Stephens, James Wallace and Matthew Quispe finished in 8:25.70 and placed behind Northwood in 8:25.61.
"The 4×8 was lined up seventh and we knew we were going a lot faster, but we weren't sure how fast we were," said Bulfer. "The boys ran as well as they did all year and only lost a hundredth of a second."
The 800-meter team of Brayden Stephens, Nate Boal, Luke Reardon and Justin Wax finished second with a time of 3:35.68.
The 1,600 meter squad of Brayden Stephens, Kenny Lombreglia, Wallace and Quispe finished in 1:41.26 and finished fourth.
Quispe was fourth in 1:10.00 over 500 meters, followed by Lombreglia in fifth place in 1:10.18.
Coltren Rodriguez was sixth in the 1,600 meters in 4:28.24 and also received the meet's Sportsmanship Award.
Pierce Manhnke was fifth in the high jump with a 5-08 margin and Matas was sixth with a 5-06 jump.
Christian Drawhorn was the sole competitor in the wheelchair competition, throwing the shot put 9-02.5 and stopping over 55 meters at 6 p.m.