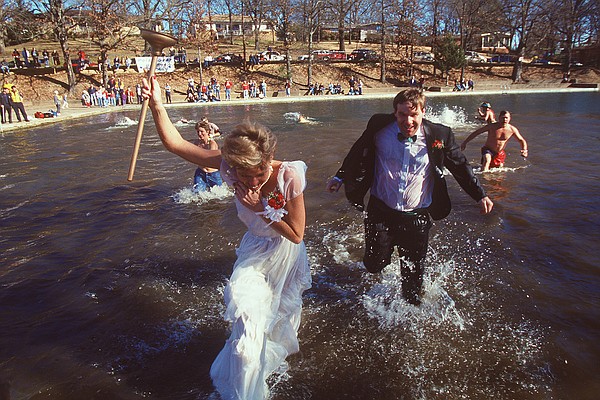 Do you remember when, Arkansas? Costumed polar flasks freeze in 2002 for a reason
Does anyone recognize what's going on in this photo from the Democrat Gazette archives?
Note: The year was 2002.
For decades, Arkansans has celebrated a new year and contributed to the Arkansas Special Olympics by sprinting into winter-chilled lakes, rivers, or pools.
These "polar dives" were formerly known as "polar bear dives" after the Coney Island Polar Bear Club, the oldest open water swimming club in the country. Since 1903, brave members have gathered on the beaches of New York every Sunday to swim in the Atlantic in rain, sleet or shine. An annual New Year's Eve there has been raising money for Special Olympics since the 1990s.
Polar bear clubs sprang up across the country in the 20th century, including Arkansas. The first mention in this newspaper's archives of the Special Olympics dive is a February 1999 report of a polar bear fall at Hickory Creek Beach on Beaver Lake.
Special Olympics and its supporters typically organize 15 or more falling events from January through March.
Today's photo is from January 12, 2002 and shows Mandy Ware and her brother Jordan Abbott emerging from Lakewood Lake No. 3 in North Little Rock. The Lakewood Property Association's jump for Special Olympics drew about 50 participants that year.
The low of the night was below freezing, but things had warmed to above freezing by the time it was time to rush to the water.
Notice that Ware thoughtfully added a piston to their insignia. Before the swimmers got wet, there was a costume contest.
The non-profit organization supports the desire of more than 15,000 Arkansans to train and compete in 20 Olympic sports. Its mission, according to the website, is "to offer all children and adults with intellectual disabilities year-round sports training and competition in a variety of Olympic sports to give them continuous opportunities to develop their physical fitness, to show courage to experience joy ". and participate in exchanges of gifts, skills, and friendship with their families, other Special Olympics athletes, and the community. "
Here's a link to a calendar of great opportunities: arkansasonline.com/110polar.