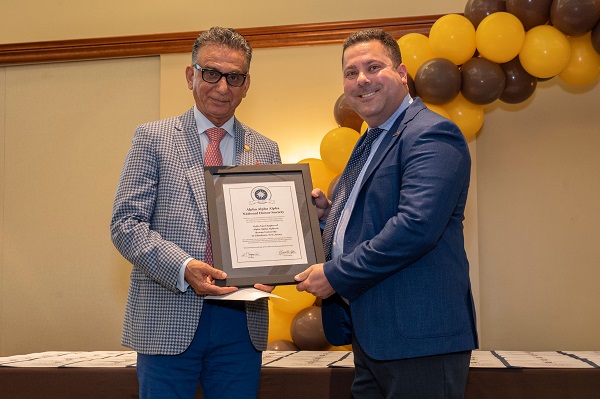 First Generation Scholars: Rowan Hosts Inaugural Ceremony for Honor Society | mountain ash today
Alexa Diamond was the first of the first. She welcomed the moment, both for what it meant and what it will mean.
"I really appreciate everything up to this moment," said Diamant (right, second from right), a sophomore with a writing major at Rowan University and an aspiring novelist.
"It makes me really proud to be standing here. I'm proving to myself that I can do it."
During a ceremony on November 7, Diamond was the first Rowan student to walk the stage to accept induction into the inaugural class of the Delta Tau chapter of Alpha Alpha Alpha, the national honor society that recognizes first-generation students for academic excellence.
A total of 63 students were accepted into the Society, which was founded in Rowan this year. Each student signed an introductory book and received a pin and certificate. Upon assuming office, they will wear the pin and cord of honor to demonstrate their status as first-generation scholars.
First-generation students are students whose parents, step-parents or legal guardians have not completed their Matura studies. To be accepted into Tri-Alpha, first-generation students must have a 3.2 or higher grade point average over 30 semester hours.
Hard work, resilience, dedication, mentoring others
While the Society welcomed students, Rowan's President, Ali A. Houshmand, was himself a proud "First Gen", Tri-Alpha's first and only faculty/staff.
"I call myself an extreme first generation," said Houshmand (left), who shared his story with insiders. Houshmand, now in the 10thth year as President of the third fastest growing public research university in the country, grew up in Iran as one of 10 children of illiterate parents in poor circumstances.
Those who succeed, Houshmand said, are driven by tenacity and determination.
"Each of you has the ability to achieve anything you want," he said. "I hope you believe in yourself. Dream crazy dreams."
Houshmand was the perfect choice as Tri-Alpha's first faculty/staff candidate because he exemplifies hard work, resilience, dedication and mentoring others, "that's the best service a first-generation graduate can provide," said Penny McPherson Myers, Vice President of Diversity, Equity and Inclusion and Co-Chair of Rowan's First Generation Task Force.
During the ceremony, Houshmand also accepted the charter presented to Rowan by Tri-Alpha National Headquarters to officially welcome the chapter to campus.
"Lighting the way for others to follow"
Tri-Alpha advisor Joe Lizza, also a first-generation college graduate, explained the symbolism of the chapter's seal, which contains a star surrounded by multiple circles.
"The circles indicate the different communities that you belong to — the Rowan University community, the Glassboro community in southern New Jersey, and the wider region and world community," Lizza said.
"The star represents you as a star in your family, leading the way for others to follow your example into higher education. Remember that you are that beacon to someone else and that you have a responsibility to lead others to the light."
This resonated with psychology major Staci Haaf (middle right). She attended the ceremony with her sons (from left), Bobby, 16, who is pursuing a career in athletic training, and Carter, 13, who is considering becoming a lawyer. Both have their sights set on Rowan for her undergraduate studies.
"I'm very proud of her," beamed Bobby. "I want to follow in their footsteps"
"Celebrate this moment"
Julius Grayson, a member of the Tri-Alpha Advisory Board, led the students in the Society's initiation pledge.
It said, in part, "By accepting membership in the Tri-Alpha Honor Society, you accept a responsibility to help others as you have been helped, or as you may wish you had been helped, to serve as mentors and Serving guides for the next group of students entering a college campus."
Amy Ruymann, director of university advisory services, co-chair of the First-Generation Task Force, encouraged candidates to enjoy their achievements.
The Tri-Alpha Advisory Board includes Lizza, McPherson-Myers, Ruymann, Grayson, Atla Wells, Melissa Meireles and Nancy Demaris.
"I hope you remember this moment and celebrate it," said Ruymann. "You belong here. And we are all connected, in the Tri-Alpha Society and in the Rowan community. You are the star and we are part of your circle."
The Alpha Alpha Honor Society's first induction ceremony was a highlight of Rowan's First-Gen Celebration Week.
The university's Flying First program provides resources and programs for students, family members and Rowan faculty. Last year, the university was named a First-Gen Forward Institution by the Center for First-Generation Student Success.