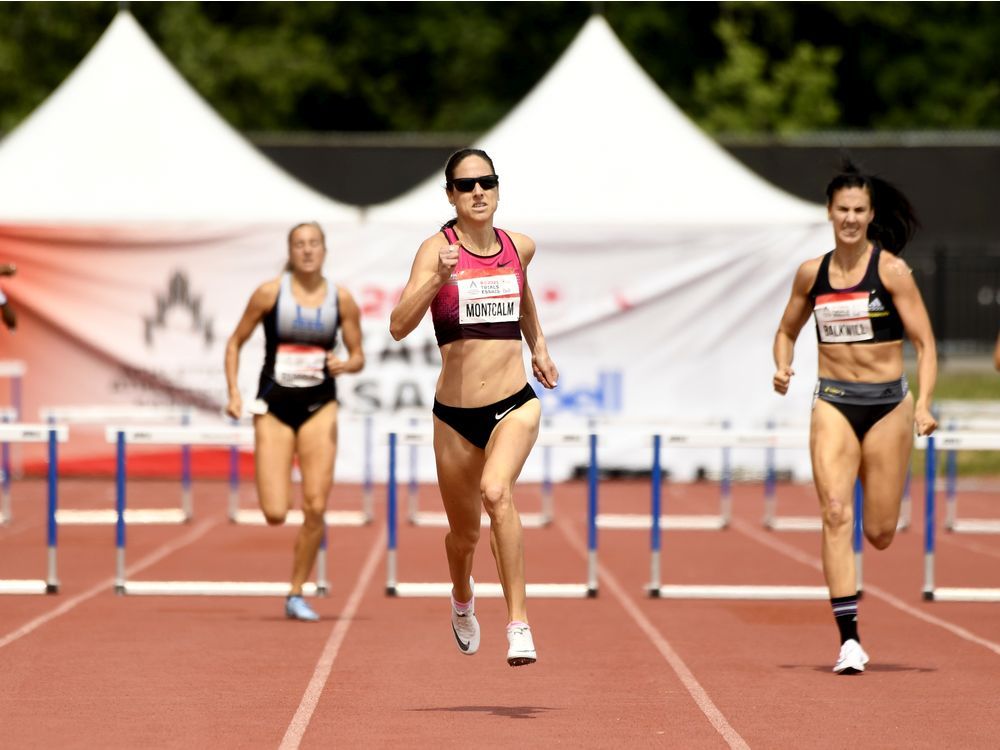 Former Lancers Mitton, Montcalm shine at Canadian track and field championships
content of the article
It was a strong performance for two former members of the University of Windsor Lancers at the Canadian Athletics Championships in Langley, BC
Sarah Mitton broke her own national record in the senior women's shot put, while two-time Olympian Noelle Montcalm clinched her sixth national title in the senior women's 400-meter hurdles.
Mitton, 25, saved the best for her sixth and final attempt with a throw of 20.33 yards.
"For me, the record was everything because I think it finally showed the world my real potential," Mitton said.
Mitton broke the 19-meter barrier for the first time in February and set a new Canadian indoor record of 19.16 meters. She set the Canadian outdoor record at 19.58 meters in May and has now broken 20 meters, breaking her own record and landing the world's best throw this year.
"I broke the 19-meter barrier and the 20-meter barrier this year," Mitton said. "I feel like that alone is a great achievement. I said before the competition I had 20 meters in it and I delivered, so it's nice to be able to trust that I know myself, but also to be able to deliver that when it counts."
It's been a season of ups and downs for 34-year-old Montcalm, who travels to England later this summer alongside Mitton for the Commonwealth Games.
Everything fell into place on Sunday for the product of St. Joseph High School, which won the 400-meter hurdles in 56.64 seconds, a season best, and more than a full second ahead of its closest competitor.
"I'm proud of this one because I haven't had my best performance up to this point this season," said Montcalm. "I've got a lot to do and had some serious setbacks along the way, but the coach and I just kept going and stayed patient.
"I went out there (Sunday) and told myself to trust myself and race like me and have fun."
Mitton and Montcalm were among seven athletes with regional medal connections at the championships.
Two-time Canadian Olympian Brandon McBride, who struggled with injuries last year, won a silver medal in the senior men's 800 meters.
McBride, 28, a product of Herman High School, finished in 1:45.15, less than a second behind winner Marco Arop.
"It was a great race," said McBride. "I was happy with the splits and the effort.
"We still have a few parts to assemble for the World Cup. It should be very exciting."
Sandwich High School product Bailey Dell won a bronze medal in the senior women's javelin throw. The 25-year-old Dell had a personal best of 50.55 meters.
Sandwich high school product Ben Tilson, now a member of the Lancers, won the gold medal in the U20 men's 400 meter hurdles in 52.37.
Brennan High School product Dane Gillis won a bronze medal in the men's U20 javelin with a throw of 51.69 meters.
L'Essor High School product Rose Forshaw won two bronze medals. She finished third in the women's U20 shot put with a throw of 12.96 meters and also won bronze in the women's U20 javelin with a personal best of 41.19 meters. With a fourth place in the women's U20 discus throw, she narrowly missed out on a third medal.
[email protected]
twitter.com/winstarparker