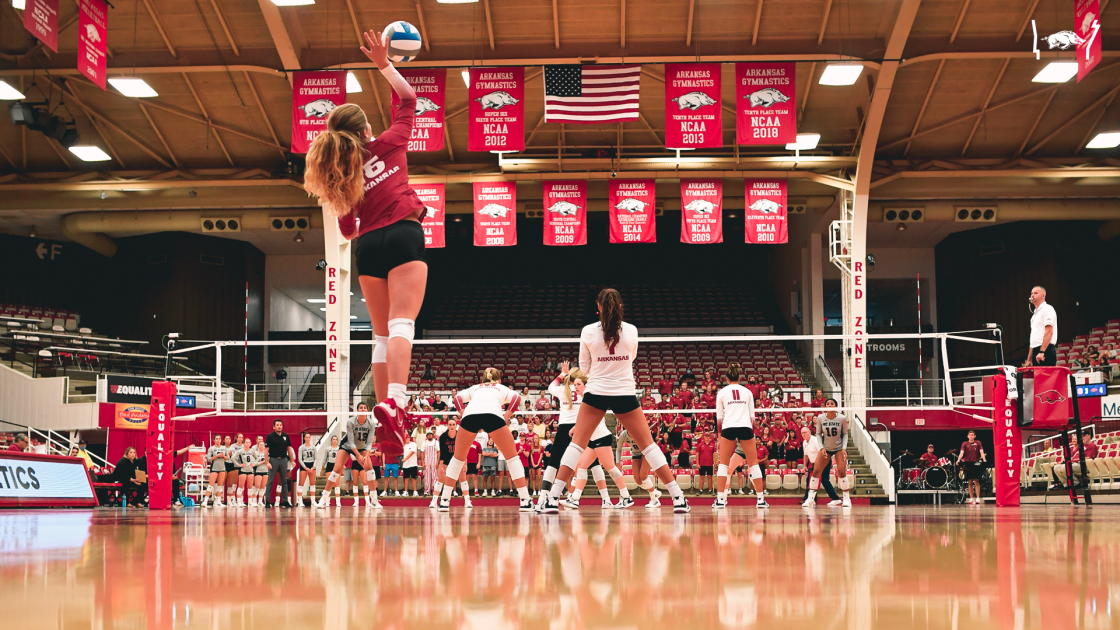 Hogs win 3-1 over Wolfpack for best start to season in 10 years
While the No. 24 Razorbacks lost a set on Friday for the first time since Aug. 27, the home team clinched a 3-1 win over NC State to extend their record to 9-1, their best start to the season since 2012.
The team has lost just six sets in the season, with four teams too ranked for a set record of 28-6.
Senior Maggie Cartwright accelerated offense for the Hogs with 16 kills and a team best of .351, and also impressed defensively with four block assists. Co-eldest Jill Gillen had 18 kills for the second straight night and had 13 digs for a double-double.
Arkansas hit a season-high in the game with 13 blocks, with graduates Abigail Archibong and Tatum Shipes each adding six block assists.
set 1
There were eight ties early in the first set, but the Hogs capitalized on a 4-0 run and went up 12-8 to send NC State to a timeout. The Razorbacks consistently maintained a four-point lead thereafter, extending it to five with a kill from graduate Hailey Dirrigl and an ace from Gillen for an 18-13 advantage. NC State called again, but the Hogs went to 20 after a Wolfpack attack error occurred. The visitors scored 18 points, but Arkansas closed from there with three straights, including two Cartwright kills for a 25-18 set win.
sentence 2
The Hogs wasted no time getting the second game started, putting on a 5-1 run spurred by kills from Archibong, Gillen and Shipes that cornered the Wolf Pack. NC State couldn't narrow the gap by less than two from there, and the Razorbacks started rolling with a three-point streak to double the lead to 10-5. Arkansas upped the ante with a trio of kills from Cartwright and Gillen for a 16-10 advantage and NC State called again. The Wolf Pack picked up six more points and late threatened the Hogs 23-16, spoiling Arkansas a set point, but a Cartwright kill ended the second 25-19 in favor of the home team.
set 3
Arkansas got off to a hot start again in game three with a 6-1 run that included kills from Cartwright and Gillen and three attacking errors from NC State. The Wolfpack couldn't do much after a timeout, and although the Razorbacks added five more points, they added a pair for a seven-point advantage and NC State again called time. Head doubled the lead in Arkansas 16-8, but the visitors combined a 6-1 run to cut the deficit to one. Arkansas then called a time-out and the Wolfpack quickly caught up. The Hogs hit set point once, but an Arkansas offense miss and an NC State kill made it 26-24 for the Wolfpack and made the match 2-1.
set 4
The fourth set was tight between the two teams with three ties going through to the sixth point. NC State was then led by two, but Arkansas didn't let it grow by more than that. Two Wolfpack attacking errors gave the Hogs back the lead at 11-10, and NC State called the time. Arkansas then went on a 4-1 run with two kills from Cartwright and was up 15-11 as the Wolf Pack huddled. The Hogs kept the momentum going and didn't let the visitors catch up more than three after that. A kill by Dirrigl took the Razorbacks past 20 at 20-17, and while NC State reduced the advantage to a pair, the Wolfpack were running out of time. Two kills from Cartwright made it 24-19 and NC State reached 20 with one kill. Shipes then closed the door with a kill for a 25-20 set final and a 3-1 match win.
Next
Arkansas opens the conference game with an away game in Baton Rouge against LSU on Wednesday, September 21 at 7 p.m. The game will be streamed live on SEC Network Plus.
More information
Visit ArkansasRazorbacks.com for the latest information on Arkansas volleyball. You can also find the Hogs on social media by liking us on Facebook (Arkansas Razorback Volleyball) and following us on Twitter and Instagram (@RazorbackVB).