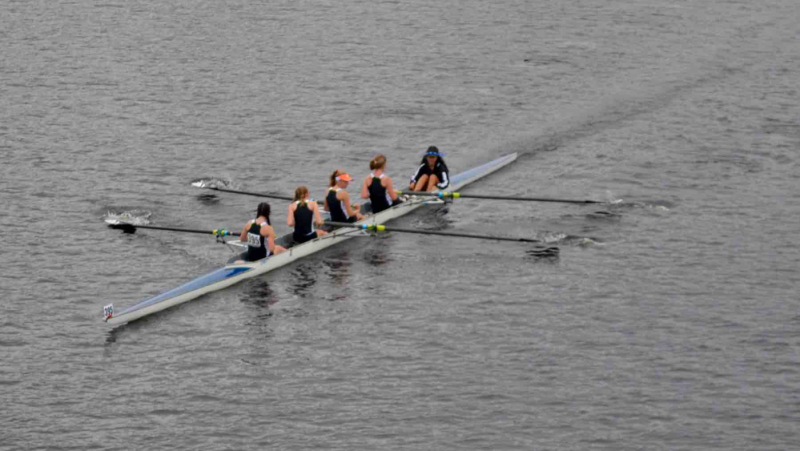 Megunticook Rowing has a strong performance against New England Crews
LOWELL, Massachusetts – Megunticook Rowing traveled to Lowell, Massachusetts for the 42nd Annual Textile River Regatta on Sunday, October 3rd.
It was a perfect day for racing with temperatures in the 60s with overcast skies and light winds. 355 participants from all over New England, including Masters, Collegiate and Junior rowers, started the 4,500 meter (2.79 miles) course.
Megunticook faced stiff competition in all of their events but showed a very strong performance.
The first race of the day was the men's junior 4 + B boat, consisting of helmsman Connor Howland, Aaron Dowd, Oliver Haynes, Tanner Carson and Carlton Richmond. With limited time rowing together, this boat took a strong seventh place out of 14 boats.
Next up was the women's 4X (Quad) juniors. Iselin Bratz, Maggie Gill, Lydia Myers and Charlotte Taylor finished fifth in a competitive field of 10 boats, less than 55 seconds behind the pace of the winning boat for nearly three miles. This was their first race together as a boat.
In the third Megunticook race of the day, the women's juniors 4+ A competed with helmswoman Anna Piconi, Leah Bloomquist, Veronica Waters, Laura Riordan and Kate Walker-Spencer against a fleet of 18 boats and took an impressive 12th place. This was also their first race together as a team.
Next up was the men's Junior 4A on the course. This boat with helmsman Connor Howland, Dom Piconi, Devin Guptill, Cabot Adams and Noah Thackeray took a very strong fifth place in a competitive fleet of 17 boats.
One of the highlights of the day was Event 42, the Women's Lightweight 4+, in which helmswoman Sofia Howell, Adella Brainard, Ava Tobias, Greer LaFiura and Flora Gurdon took a strong third place in their first race as a boat against a field of five for bronze!
The last team event of the day was the men's junior 8+ event. This boat consisted of helmsman Connor Howland, Dom Piconi, Cabot Adams, Devin Guptill, Tanner Carson, Oliver Worner, Carlton Richmond, Oliver Castle and Noah Thackeray. Seven of the nine boys in this boat (including the helmsman) had sailed earlier in the day, five had less than an hour to recover from their previous race. Nevertheless, they wanted to compete in their new / used case. They rowed a strong race and finished 13th out of 18 places, even leaving their fellow rivals from Waynflete behind them.
Iselin Bratz and Maggie Gill drove the Waynflete's Women's Junior 8+ in true sporty fashion to help them fill a boat that needed two seats. Having never rowed together before, they still managed to finish the 12th of 15.
Our master compatriot Andrew Carpenter took on a very experienced fleet of 12 rowers in his first master's individual event and finished with a very respectable 10.
The Megunticook team, both Masters and Juniors, are looking to wrap up a great season at the New Hampshire State Championships on October 17th.