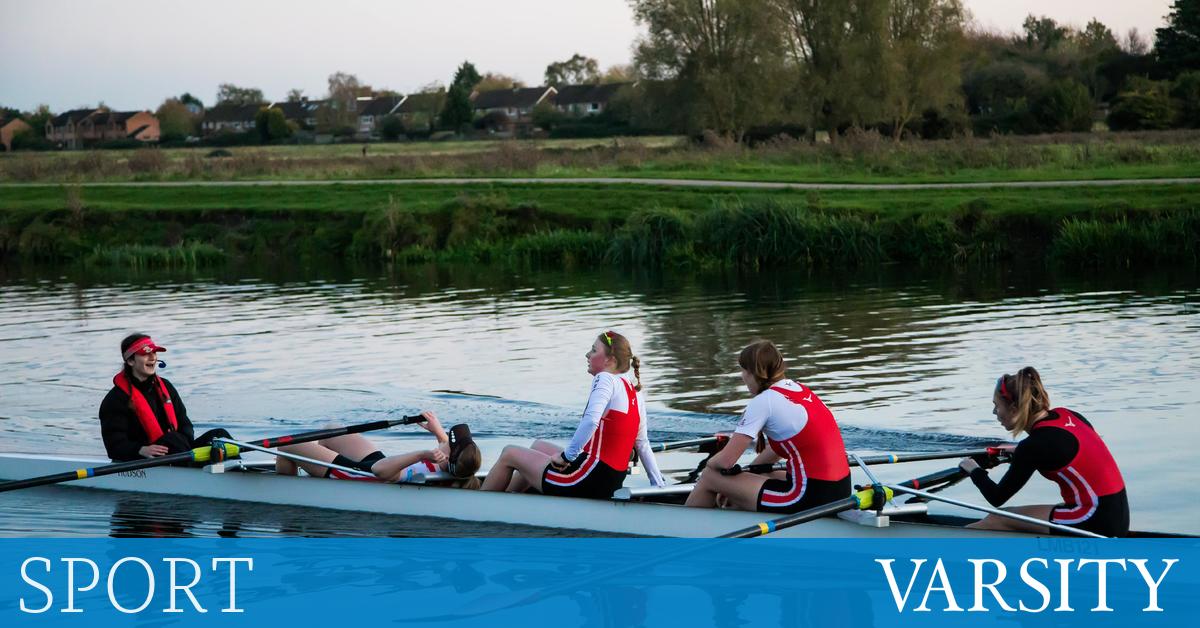 Rowing: John's and Caius dominate the University Fours
Rowers from St. John's College dominated the University Fours with one boat in each final, narrowly beating Jesus by a university medal in both the men's and women's events.
The Lady Margaret Boat Club of St John's College (or 'Maggie' for short) took a crew to the finals of each race in all four divisions (M1, M2, W1 and W2) but were unable to repeat the successes of 2016 and up each category win first time. Caius won both of the second division.
The annual University Fours competition is one of only three events where a university medal is up for grabs, and is the only one to be rowed in fours (four rowers and one helmsman). While not as idiosyncratic as the infamously chaotic Bumps, the multi-day knockout event still puts its own spin on the regatta format, with boats starting 120m apart while racing to different start and finish posts simultaneously.
In Wednesday's heats, plagued by wind gusts up to 22 mph, the men's teams of Kings and Homerton both unexpectedly defeated college rowing giants Magdalene (third in May Bumps) and Pembroke (fourth in May Bumps) by margins of just two seconds. Wednesday's much-anticipated race between old rivals Maggie and Caius was surprisingly one-sided, with Maggie confidently forcing a 22-second lead over the May Bumps leaders.
Highlights of Thursday's quarter-finals included Jesus W1's best time of the year in the race against Magdalene and Caius W1's closely fought win over Pembroke.
In Friday's semifinals, the men of Emmanuel and Kings and the women of Churchill and Caius were unable to overtake the Maggie and Jesus crews.
In the women's second division, various 'dropouts' (retirements after the draw but before the races) had left only teams Maggie W2 and Caius W2 in contention. Maggie M2's loss to Emmanuel M2 and Caius M2's loss to her own M3 led to two Maggie-Caius League Two finals. Despite close races, the second Caius boats won both times, denying Maggie a clean sweep.
On Friday night, in both Premier League finals, Maggie watched Jesus face off on the two-kilometre course in the setting sun. Both races went to the end with all crews showing amazing rowing skills that would have made both clubs worthy winners. However, it was Lady Margaret's scarlet blades that triumphed in both races. The women's team won the competition in 8 minutes and 10 seconds by just a second, and Lady Margaret's men reached the goal posts in just 7 minutes and 5 seconds, just two seconds ahead of Jesus.
Despite these victories, Maggie's rowers are unlikely to rest on their laurels. Hosted by Jesus, December's Fairbairn Cup is a race where the hosts tend to dominate (they've won a category there every year since 2017). One thing seems pretty clear if you can dig into the infamous Cam Rowbridge Oracle: Maggie "has got to have their back."
University is the independent newspaper of the University of Cambridge, established in its present form in 1947. In order to maintain our editorial independence, our print newspaper and news website does not receive any funding from the University of Cambridge or its constituent colleges.
We therefore rely almost entirely on advertising to fund ourselves and we expect a tough few months and years.
Despite this situation, we will look for inventive ways to serve our readership with digital content and of course also in print!
We therefore ask our readers, if they wish, to make a donation of £1 or more to help cover our running costs. Thank you, we hope you can help!