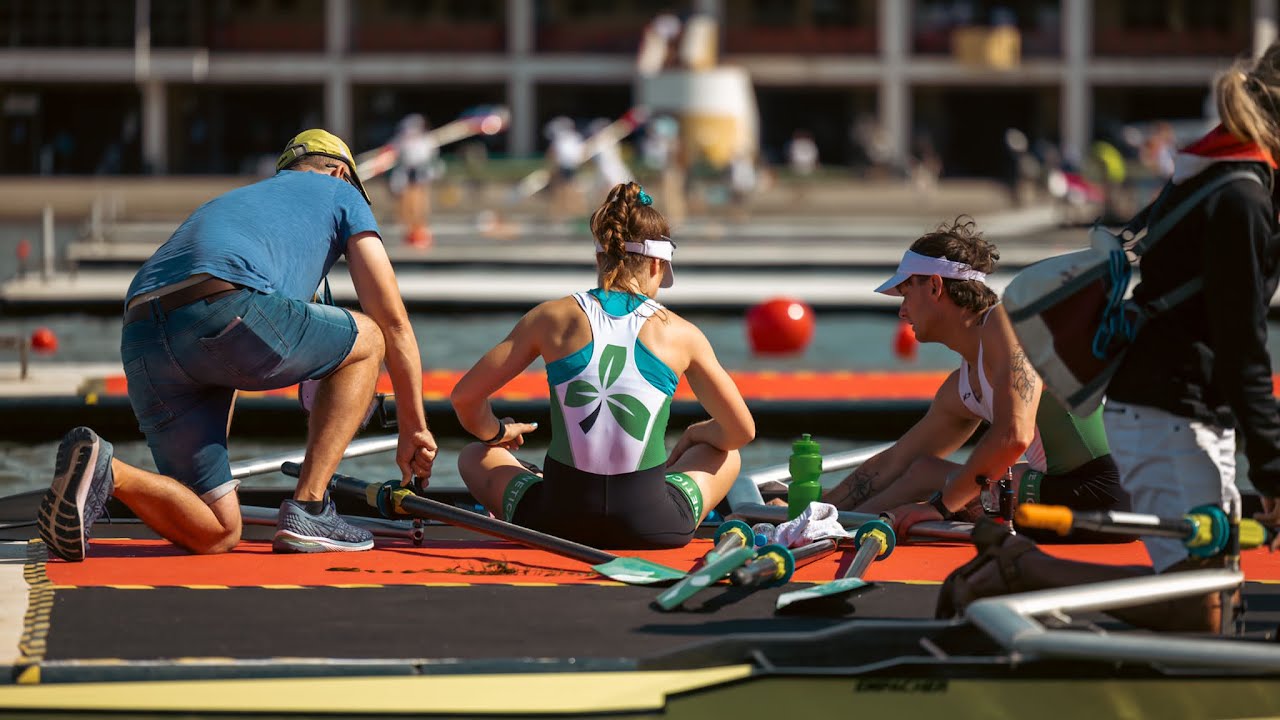 "Sport is a way for people from all walks of life to come together and enjoy something that is good for the body and mind"
25-year-old Katie O'Brien, from Clarinbridge, County Galway, has been making waves in the rowing world (literally and figuratively) since she started in 2013.
Born with spina bifida and having multiple surgeries on her back and left leg, Katie can walk with just one brace. From the moment she watched the 2012 Paralympics, she knew she wanted to be there.
Since she started rowing, Katie has won the bronze medal at the 2019 World Rowing Championships in Linz, placed sixth in the 2013 World Rowing Cup A-final and won gold at the Henley Women's Regatta and the Home International Regatta. She also made history this year when she formed Ireland's first competitive para rowing crew alongside Steven McGowan of Roscommon.
Just this week Katie won gold in the PR2 singles final at the World Rowing Championships in the Czech Republic! Katie O'Brien is currently a qualified veterinarian and has her sights set on winning a gold medal at the 2024 Paralympics.
---
Surname: Katie O'Brien
Profession: vet
Earliest sporting memory?
Cúl Camps Summer 2004
How did you get into your sport?
I went to a Paralympic sports day where all available Paralympic sports had a booth. I went to see horseback riding but was eventually asked back about rowing!
What message would you like to give to young women and girls who are interested in a career in sports?
Trusting yourself and your own potential and believing that you can achieve anything you set your mind to.
Proudest moment yet?
Won the bronze medal at the 2019 World Rowing Championships in Linz.
The athlete I admire the most is…
Katie Taylor for working so hard, achieving so much and expecting nothing in return. She is incredibly humble and has really put women's sport on the map. She showed the world how interesting women's sports can be.
Favorite sporting memory…
Cross country (on ponies) with my sister and dad.
Do you think women in sports are still stigmatized?
I would say not for the majority, but there are definitely still people with the wrong attitude.
What is the biggest obstacle to visibility when driving in women's sports?
Difficult question, but a big one is the financial investment.
The biggest stigma/prejudice there is in women's sport is…
Sport is sometimes viewed as "masculine" or "masculine".
If I wasn't an athlete, I would be… A vet!
My favorite pre-competition meal is… porridge
My pre-competition playlist includes…
That Rocky Theme – "Gonna Fly Now" by Bill Conti.
My daily routine is…
Get up, eat, exercise, shower, eat again, rest, exercise again, shower again, eat again, rest again, go to bed!
My greatest sporting goal is…
Gold medal at the Paralympics.
Sports Brands I Love (Irish or otherwise)…
Queen B Athletics of course – Nike and Adidas too!
Biggest effort to celebrate a win… Pint(s) of Guinness.
How do you feel about your mental health?
Rowing really keeps my head straight. When I take some time off, I start not feeling myself anymore. Also, my siblings are my rocks – they keep me on the right track.
My three desert island beauty products are:
Easy! Eyebrow pencil, mascara and bronzer.
I need 8th hours of sleep a night because… If I don't, you won't want me around! I can be moody without sleep (or food).
For me, trust is…
Feel good in your own skin in front of everyone – from the president to your grandma!
How do you get over poor performance?
Analyze why it was a poor performance, note where I can improve, and act on those areas. I try to forget it as best as I can once I've made the notes!
Finally, why is sport such an integral part of the community, at club, local, national and personal levels?
Sport for me is a way where people from all walks of life, all shapes and sizes, ages, skin colors and abilities can come together and enjoy something that is good for the body, mind and much more!
Pictures by Katie O'Brien