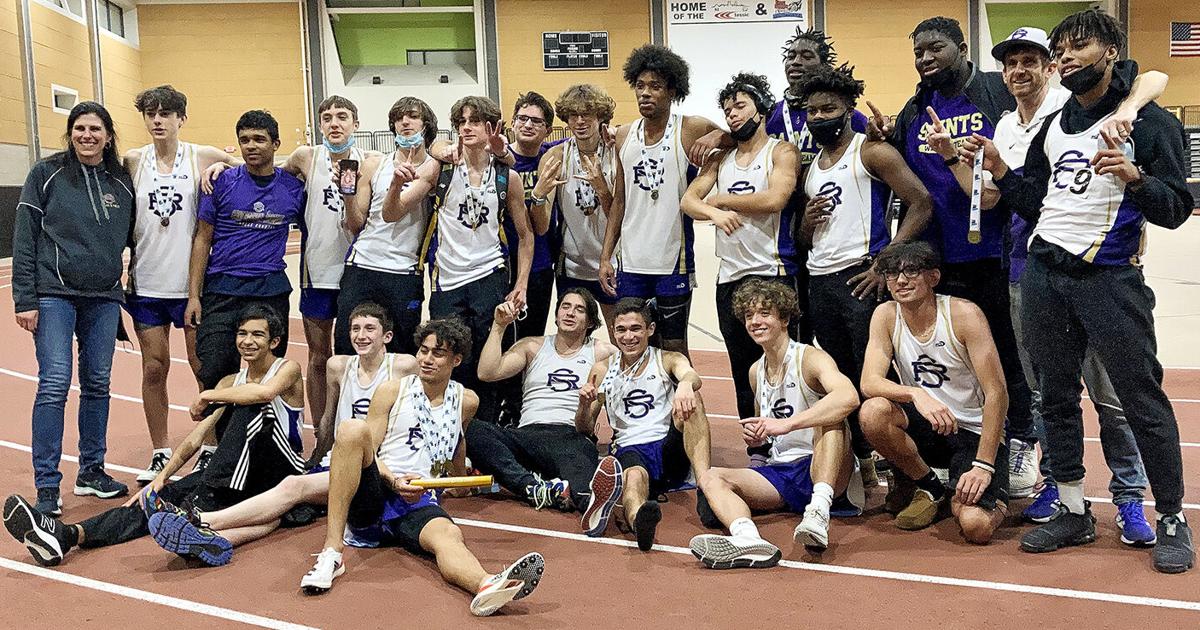 SRA Boys Indoor Track and Field Team Reclaims Class C Championship | Sports
PROVIDENCE — With eight wins and points in 11 of 14, the St. Raphael Academy boys' indoor track and field team reclaimed the Class C title at last Saturday night's championship meeting at the Providence Career & Technical Academy fieldhouse.
The Saints, who won the Class C championship two years ago, scored 104 points, 34 more than runner-up Moses Brown. SRA had lost by three points to Smithfield High last year, which was a contentious one, with the Saints disqualified from the final relay heat and the Sentinels scoring enough points in the 4×400 to win the title.
"Obviously it was a tough loss for us last year so that feels really good," said SRA head coach Chris Magill after winning the meet. "I am very proud of this group. They all made it through today. I didn't sleep well this time last year, but I think I'll sleep well tonight."
Since Magill took over as head coach, the Saints had accumulated most of their points in the middle and long-distance events, but with a new assistant coach, Kerri Ramos, Magill said they now have a well-rounded team.
"Kerri did a fantastic job developing some of the other events that we didn't score in before," said Magill. "Now we are a complete team. We had the shot put and vault winners, so it was a full team effort. I am very, very proud."
Two of the Saints' top scorers last Saturday are also standouts on the school's football and basketball teams, juniors Ethan McCann-Carter and Moses Meus. McCann-Carter finished the meeting with 24 points, conquering the high jump with a six-foot leap and the long jump with a 22-foot leap, and placed fourth in the 55-meter hurdles in 8.47 seconds. Both jumps were personal records.
McCann-Carter, who qualified for the New Balance Nationals with his long jump jump, repeated as the Class C high jump champion and admitted he was focused on keeping that win on his hands.
"I've been thinking about it all week," McCann-Carter said. "I've been working on six feet all indoor season and today I finally nailed it."
"Ethan is a fantastic athlete," added Magill. "He's a great football player, a great basketball player, and a great track star. He qualified for Nationals today with his long jump, so I can't say enough about him."
Meus, who is a two-time first-team All-State soccer player, won the shot put with a PR throw of 41 feet, 11 inches and placed sixth in the 25-pound weight with a throw of 49-10¾. As he is busy with school and other sports, Meus said that after school he gets his shot put reps with help from Ramos.
However, the best athlete of the meet was Saints junior Devan Kipyego, who was recently voted Gatorade RI Cross Country Runner of the Year. He won the distance races 1,000 (2:39.24), 1,500 (4:06.35) and 3,000 (9:23.72) and led the 4×400 relay to a narrow win.
This relay team, which also included juniors Pedro Mayol and Robert Littlejohn and senior Josh Farrell, posted a time of 3:40.87, beating Westerly by 0.66 seconds.
"He got 32½ points today, that's fantastic," said Magill. "Devan is a superstar. He works hard and he loves it. We're very proud of Devan, but again, it's the whole team."
Mayol also conquered the 600 in a time of 1:26.70, senior Jack Pereira (1,500, PR of 4:08.19) and the 4×800 relay team of juniors Kaydn Reilly and Milo Crisp, rookie Alex Ramos and Farrell (9: 16:23). third place and Andrew Worden was fourth in the 3,000 in 9:40.96.
Magill said he will line up some people at this weekend's Last Chance meet at the PCTA facility, but in the meantime they will focus on the state championship meet on Feb. 19, the New England Championships at the Reggie Lewis Track Center in Roxbury, Mass., and the New Balance Nationals next month.
As for the national meet, "We have a distance medley relay (team) going on," Magill added. "We have Pedro in the 400, Devan in some events and now Ethan in the long jump. There's something special about bringing all these people to Nationals."
The SRA girls team, meanwhile, finished second in the Small Schools championship meeting with 68 points while Moses Brown won the meeting with 84 points. The Saints have improved every year at the reunion; last year they placed third with 52 points.
Magill highlighted coed Gemma D'Orazio, who finished second in the shot put (PR of 31-8) and fourth in the 20-pound weight (31-10) and the 4×400 relay team of senior Elizabeth Murphy and juniors Tyla Forbes and helped Valeria Uribe was second in 4:41.71.
The SRA head coach also praised sophomore Chandaniey Boyce, who finished second in the 3000 (PR of 11:59.38), fourth in the 1500 (5:33.23) and fifth in the 1000 (3:24.87).
Murphy also finished second in the high jump (4-8) and sixth in the long jump (14-10), senior Christine Kizekai was third in the 55-meter dash (7.83 seconds) and freshman Jaala Smith (300, 47.65 seconds) . ) and Uribe (600, 1:49.24) completed fourth places.
"I can't say enough about all the girls," Magill said. "It was a total team effort"