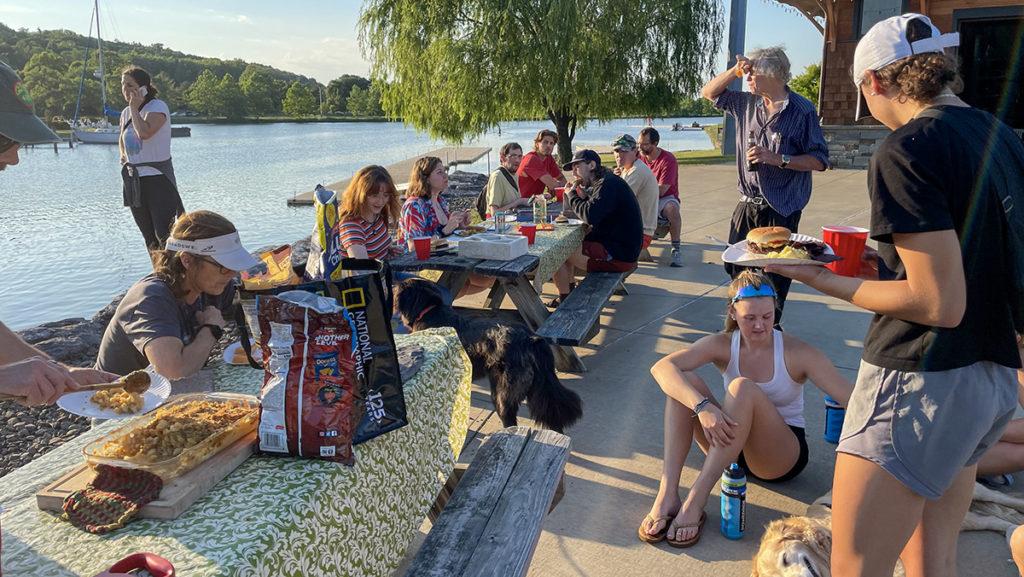 The women's and men's teams meet during the summer barbecue evenings
On a small, handcrafted charcoal grill at Cayuga Inlet, Dan Robinson '79, former Ithaca College men's team coach, stood over a flame and cooked hamburgers and sausages for the weekly row cookout.
At one table, teammates Zoe Foster '22 and Bobby MacInnis '22 played a version of "Guess Who?" with their teammates' faces instead of the normal characters. Others played cornhole while the rest talked to each other or played with the various dogs present.
Robinson announcing his retirement of the March team and his wife, Becky Robinson '88, head coach of Ithaca College's women's crew and skull teams, have hosted weekly summer barbecues for more than 30 years. And while Dan Robinson said it's meant to be a team event, the event is open to just about anyone.
"Once in a while we have a few alumni in Syracuse [who] will show up," said Robinson. "The rowing community [in the city] is invited, the college community is invited, and they can bring friends. All these times it's an open invitation."
Aside from a handful of athletes and coaches, there were young graduates, professors, children of coaches and members of the Ithaca community involved in rowing. Although there were only about 15 people there on June 23, Robinson said at times they had about three times that number.
"[Tonight's attendance] is average," said Robinson. "We had as many as 40 to 45, and we only had four of us."
MacInnis, who was with the team for three years, said he attended one of the team cookouts for the first time this summer because he hasn't been in the area in previous summers, but he's hoping to hit a few more that summer ends.
"I'll be here all summer doing a class," MacInnis said. "Well, I don't know, I can come and see some people. You never know who's going to be in on these things. … I love this weather, it's relaxing. And it's better than just eating in my house, in my kitchen."
While the team building and summer relaxation are fun, there are other things for some of those in attendance to enjoy. Foster, who was the team's helmsman, said they come for the dogs that people bring.
"We have a lot of boathouse dogs," Foster said. "Becki [Robinson] has Rigor and Nala and Crista [Shopis]the men's assistant trainer, has a dog named Chupa. … TThere can be up to four dogs here at any time!"
Foster, like MacInnis, had not attended any of the summer cookouts prior to this year, largely because it was difficult for her to stay in Ithaca for the summer. They said older students and recent graduates tend to make up the bulk of the crowd, but lower-school students also know they're invited.
"This is my first summer [in Ithaca], and I've looked forward to it since I was a freshman," Foster said. "We don't really promote it much, but it's just like, 'if you're in the area and you want to hang out on a Thursday and you want to get free food, just come down and hang out.' It's super casual."
Located directly on Cayuga Lake, the Ward Romer Boathouse has a concrete patio outside with picnic tables right next to the water. A few rowers had just returned from a trip on the lake and were still in their training gear.
Robinson said the easy-going nature makes it so fun. He said he spends about $15 a week on burgers and sausages, and anyone else who comes is welcome to bring a side dish or drink, but there's no pressure to contribute — just to come and have fun .
"We always have stuff, and when we run out, we go out, that's how it goes," Robinson said. "It's completely informal. … And if it rains, we have this big umbrella [for the grill] and we move the picnic tables [inside the boathouse]. We made it rain or shine."
Jared Anderson '22, another recent graduate on the team, said that like many college students, he would never turn down a free meal opportunity. But beyond that, he said he's glad the cookouts give him a chance to see his teammates and coaches one last time before leaving Ithaca. Unlike Foster and MacInnis, Anderson said he went to the cookouts every four years of college.
"I'm really enjoying these," Anderson said. "It connects us to a lot of people that we won't see. I've just graduated and I get to hang out with alumni and my friends that I might not see as much by the time I finally have to move away."