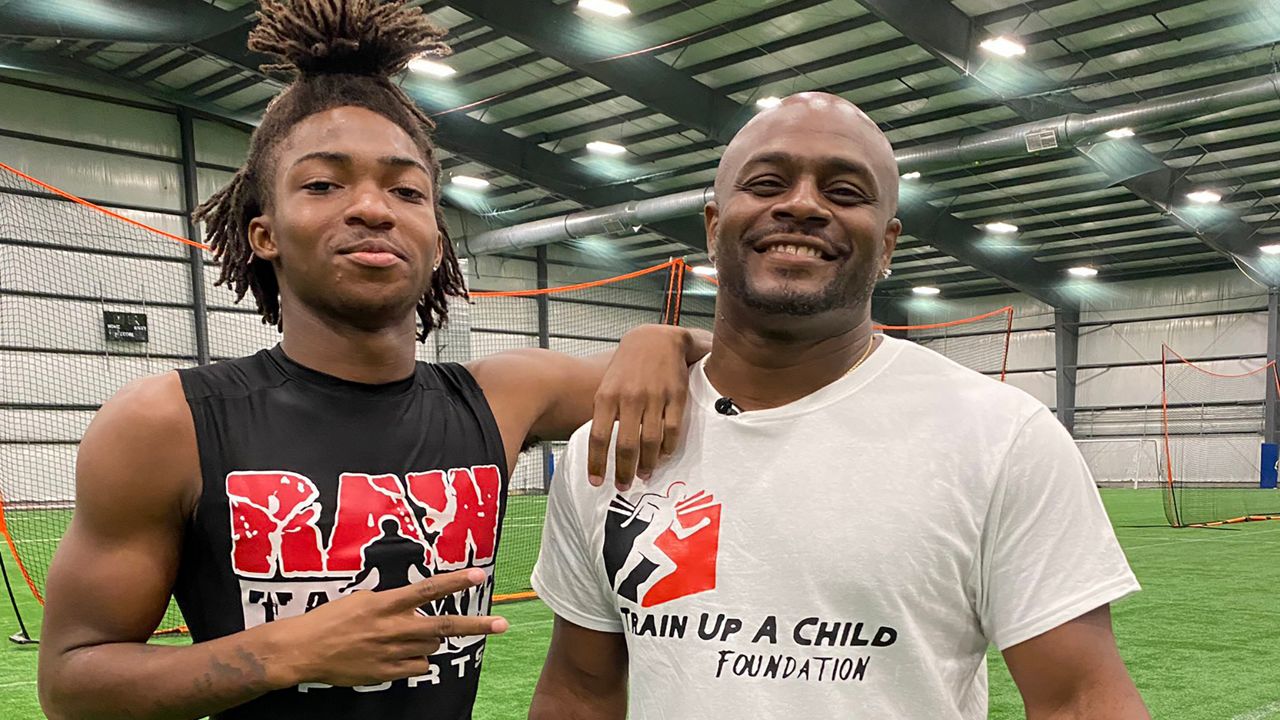 Train up a Child Foundation helps to achieve a balanced playing field
CLEVELAND – Talent and athletic ability have no zip code or socioeconomic status, but to become a professional player it takes more than just being great at the sport.
Resources and adequate training are essential. An organization from Ohio with branches in Cleveland and Columbus is working on breaking down barriers through the "Train Up a Child Foundation".
Trainer Mark Harris of @rawtalentsports Trains WR & DB Tavion Jackson (17). Talent and athletic ability don't have a zip code or socioeconomic status, but to become a professional it takes more than just being great at the sport. "Train Up A Child Foundation" even helps on the field. @ SpectrumNews1OH pic.twitter.com/RQmSgZwbNN

– Micaela Marshall (@MMarshallTV) October 27, 2021
Courage, strength and raw talent. This is what the CEO of Raw Talent Sports tells you to be a great player.
He not only trains aspiring soccer stars. Coach Mark Harris works with children in all sports.
He said the problem is that not all athletes can afford the training they need to get to the next level, and that's where his Train Up a Child Foundation comes in.
"The Train up a Child program has helped me take a bus tour and showcase my talents in many Division I schools," said Tavion Jackson. The 17-year-old is a wide receiver and defensive back at John Marshall High School.
Train Up a Child offers sports training at discounted prices and in some cases free of charge.
"So this kid has the same chance of getting a college scholarship as any other kid," said Harris.
Jackson and Harris met last year.
"I wasn't that fast and I am now. I wasn't as strong as I am now. I wasn't as skilled as I am now, "said Jackson.
But life is not always easy for the high school graduate. He was recently shot in the leg on a drive-by shoot in downtown Cleveland and spent time in the hospital.
"It was a bit difficult for me now because I missed two games of the season, but I think it was my wake up call to just focus on football," said Jackson. "I've been through a lot. And the fact that I was shot really paralyzed my mental state for a minute. So I'm blessed to be back on the field. "
This wake-up call ensures that he returns to training in the CAPS Fieldhouse three to four times a week.
"It's my home," Jackson said of football. "I distract myself from a lot of things."
Drilling after drilling helps emphasize the importance of holding on to something. Football can be a way out of rights and a path to a better life.
"I helped save my life somehow," said Harris. "I mean, I had a great family, a great home. But football was one way I found my way."
Harris always dreamed of becoming a professional. But now his goal is to help others get there.
"You meet so many children under so many circumstances. Rich. Poor. Good parenting. The lack of fathers, uncles and I can fill in those gaps through this sport, "he said.
Since 2002, Raw Talent Sports has helped hundreds of kids go to college and has been part of many great success stories.
"Doran Grant, Ohio State National Champion. Donovan Munger. Denzel Ward. Frank Clark. Shaq Washington, "said Harris, to name a few.
His goal is to level the playing field by providing resources to children of all backgrounds.
"I'm not saying in general that you train here and eventually go to college. We made the phone calls and connected with the college coaches to get them on their way and give them that second life, football life, "Harris said.
Today Jackson is under investigation by several Division I and II colleges. He even has a couple of offers. His plan is to make it to the NFL, and he said none of this would be possible without Harris.
"Coach Mark will pave the way for you. He made a way for me, "said Jackson. "He will create a way for you."