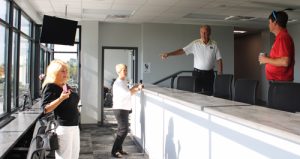 Welcome to Beaver Stadium – Hamilton County Reporter
The ribbon has been cut, the gates are open and the events have started on Friday
By RICHIE HALL
[email protected]
In less than three weeks, the first Noblesville football game of the season will be played at brand new Beaver Stadium.
And Miller fans will be very impressed when they get the chance to see it.
Noblesville Schools officially dedicated the new stadium on Friday morning. The facility features 50 percent more seating capacity, expanded and concession booths and restrooms, a new two-story press box, and those are just the highlights.
Beaver Stadium, located on Field Drive behind Noblesville High School, will be home to Miller football, band, track and other activities and is the first new Noblesville stadium in over 50 years.
A breakfast preceded the dedications and the official cutting of the ribbon. The Superintendent of the Noblesville Schools, Dr. Dan Hile, the principal of Noblesville High School, Dr. Craig McCaffrey and Noblesville Deputy Mayor Matt Light spoke at the event. Noblesville High School senior Maddux Morrison sang the national anthem.
Thanking those in attendance, Hile said, "We look forward to many years before we create special memories at Beaver Stadium." Former Superintendent Beth Niedermeier and former Assistant Superintendent David Mundy were also in attendance.
"I can't tell you how much this space means to our students, our athletic teams, our coaches and our music directors," McCaffrey said. "Creating ample space for all of our programs, not just at this facility, but by using our old facility now for our club sports and other events, sends a strong message about the values ​​and how much we value our students."
After the ceremonies concluded, those present were shown around the new stadium, including the press box and the teams' dressing rooms. While the Millers still change in their high school locker room, they now have another locker room near the field that offers team rooms and an athletic training center. Also, the high school locker room is a short walk from the new field.
Beaver Stadium replaces the old Beaver Materials Field which was located on Harrison Street. This stadium opened in 1969 as Dale V. Swanson Athletic Field with the first game being played on September 19 of that year. Articles in the Noblesville Ledger mentioned rave reviews of the then-new field.
But that was almost 53 years ago. At that time, Noblesville's population was 12 percent of what it is today, and about 800 students attended the high school. Today Noblesville is the 11th largest high school in Indiana with well over 3,000 students. The Millers needed a field that could accommodate the rapidly expanding community.
Building a new stadium proved to be more cost-effective than adding to the existing facility. The district funded the approximately $14 million project through a bond (loan) with no referendum dollars, no increase in the tax rate, and no use of student or staff funds.
The new stadium could comfortably accommodate every single NHS student and then some, as the home stands have a total of 4,507 seats. There will be designated areas for the Millers band, students and season ticket holders. The guest grandstands have a total of 1,465 seats.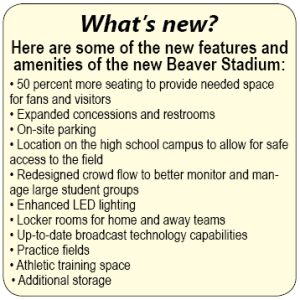 "Having 50 percent more room for everyone is going to be amazing," said Noblesville football coach Dave Sharpe, who was also in attendance. "So we are very excited. Three weeks from today we will be here with thousands and thousands of Miller fans watching us play Mount Vernon.
Noblesville's game against the Marauders will open the high school football season on August 19th. The new stadium has already seen some activity having hosted athletics meetings last spring. And of course, the Millers football team used it for training all summer long.
"It's kind of ironic because it's the grand opening," Sharpe said. "It doesn't feel like that to us. It's been a part of our lives for many, many months now. And it already feels like home."
Beaver Materials acquired the stadium naming rights for $250,000 over five years. Other stadium sponsors include McGavic's Outdoor Power and the Gordon Family; they will each sponsor one of the concession stands. Body in Training is a sponsor of the new athletic performance center.