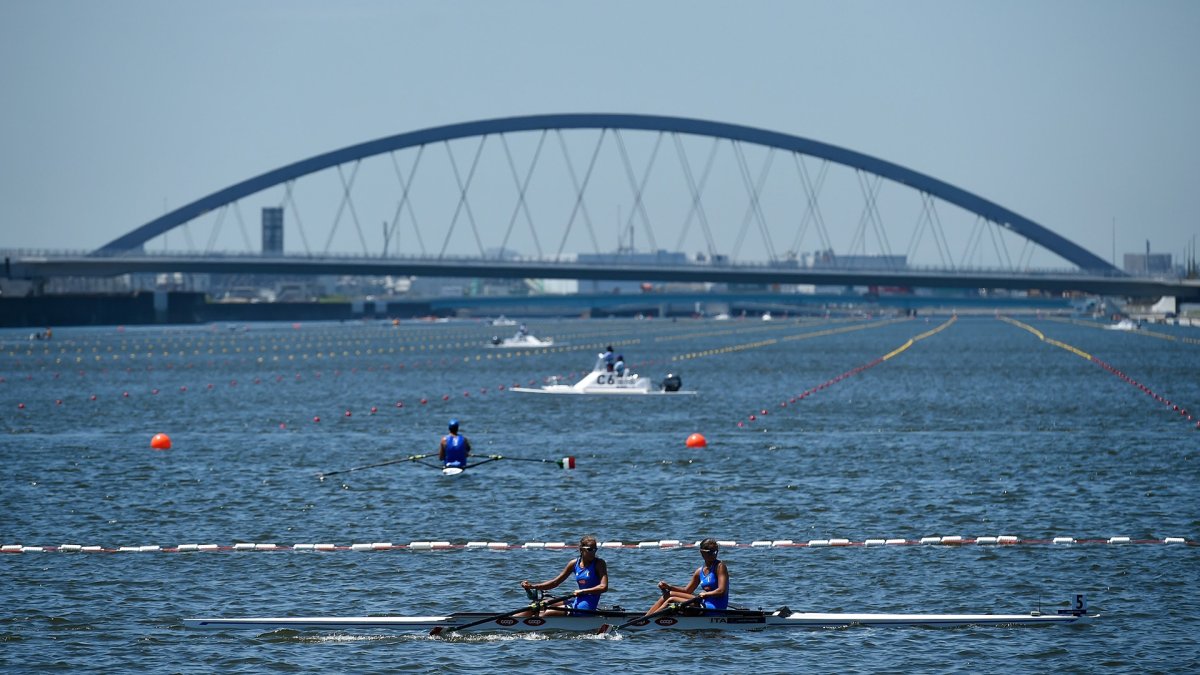 Who is qualified for Team USA in Tokyo? – NBC 5 Dallas-Fort Worth
[ad_1]
overview
A total of 526 athletes will compete against each other at the Olympic Games in Tokyo: 260 men and 260 women. Each qualified nation represented cannot enter more than one boat per event.
The first opportunity to qualify boats for the Tokyo 2020 Games was at the 2019 World Championships in Ottensheim, Austria. Also on the timeline: the African Continental Qualification Regatta (October 10-12, 2019), Americas Continental Qualification Regatta (March 4-5, 2021), European Continental Qualification Regatta (April 5-7, 2021), Asian & Oceania Continental Qualification Regatta (May 5-7, 2021) and Final Qualification Regatta (May 16-18, 2021).
Team USA
Kara Kohler became the first US rower to qualify for the Olympic Games in Tokyo at the end of February at the US Trials in women's singles.
SEE MORE: Kohler is the first US rower to qualify for Tokyo
Less than two months later Gevvie stone and Kristi Wagner secured the Olympic qualification by winning the women's double scull during the second phase of the US Trial in April.
In May, Molly Reckford and Michelle Sechser qualified by winning the women's lightweight at the Olympic qualification regatta 2021 World Rowing Final in Switzerland.
US rowing another 30 athletes named Joined the team at the beginning of June.
Here is the full list of 37 people:
Single-seater women (W1x)
Kara Kohler (Clayton, California)
View social media post: https://www.instagram.com/p/CRZZqSFJSZ5/
Double scull women (W2x)
Gevvie stone (Newton, Massachusetts)
Kristi Wagner (Weston, Massachusetts)
Easy double scull for women (LW2x)
Molly Reckford (Short Hills, New Jersey)
Michelle Sechser (Folsom, California)
View social media post: https://www.instagram.com/p/CRW2vLDJfRg/
Double scull women (W4x)
Cicely Madden (Weston, Massachusetts)
Meghan O'Leary (Baton Rouge, La.)
Alie Rusher (West curve, Wis.)
Ellen Tomek (Flushing, me.)
View social media post: https://www.instagram.com/p/CRlgpiJJg2q/
Women pair (W2-)
Tracy Eisser (Fair lawn, NJ)
Megan Kalmo (St. Croix Falls, Wisconsin)
View social media post: https://www.instagram.com/p/CQ_exnfJu2_/
Ladies Four (W4-)
Kendall Hunt (Evergreen, Colo.)
Claire Collins (McLean, Virginia)
Grace Luczak (Ann Arbor, Michigan)
Madeleine Wanamaker (Neenah, Wis.)
View social media post: https://www.instagram.com/p/CRJsgAdJrIR/
Men Four (M4-)
Clark Dean (Sarasota, Florida)
Michael Grady (Pittsburgh, Pennsylvania)
Andrew Reed (Wayland, Mass.)
Different from Weiss (Barrington, RI)
View social media post: https://www.instagram.com/p/CRkGZr_J1ZB/
Ladies Eight (W8 +)
Charlotte Buck (Nyack, NY)
Olivia Coffey (Watkins Glen, NY)
Gia Doonan (Rochester, Massachusetts)
Katelin Guregia (Orland, Florida) – Helmsman
Brooke Mooney (Keene Valley, NY)
Meghan Musnicki (Naples, NY)
Kristine O'Brien (Massapequa Park, NY)
Regina salmon (Methün, Mass.)
Jessica Thönnes (Denver, Colorado.)
View social media post: https://www.instagram.com/p/CRiQwKPpYEC/
Men's eight (M8 +)
Justin Best (Kennett Square, Pennsylvania)
Liam Corrigan (Old Lyme, Conn.)
Ben Davison (Inverness, Florida)
Austin hack (Old Lyme, Conn.)
Conor Harrity (Weston, Massachusetts)
Nick Mead (Strattford, Pennsylvania)
Alex Miklasevich (Pittsburgh, Pennsylvania)
Alexander Richards (Wasserstadt, Mass.)
Julian Venonsky (Philadelphia, Pennsylvania) – Helmsman
View social media post: https://www.instagram.com/p/CRUdiijpX8-/

[ad_2]