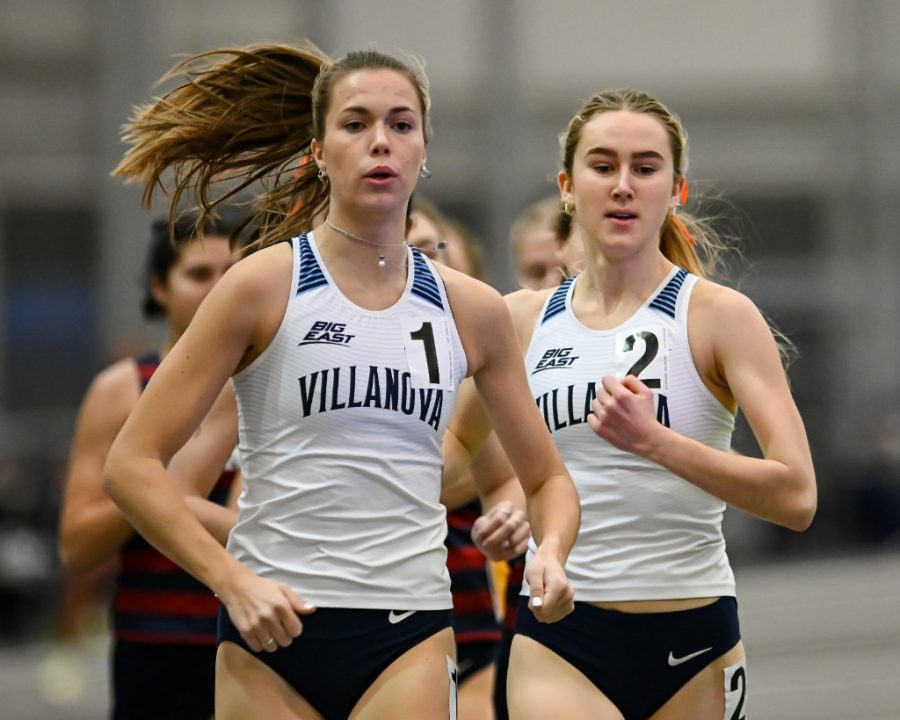 Women's Athletics hosts Villanova Invitational – The Villanovan
The Wildcats continued their success into the indoor season as the women's track and field team faced 12 teams at the Villanova Invitational on Saturday, January 22 in Ocean Breeze, Staten Island. The Wildcats finished their home game with six individual wins and many athletes setting new personal bests. This meeting follows her first place finish in the Penn 10 competition the week before.
Graduate student Sade Meeks broke the school's 20-year weight throw record in the Penn-10 last week, throwing 17.98 meters. This week she broke her own record, throwing a personal best of 20.88 meters, which currently ranks 13th in the country for this indoor season. The runner-up managed a throw of 16.84 meters. In addition, Meeks took first place in the shot put with a throw of 14.18 meters, placing eighth for the longest throw in Wildcat history.
Junior Jane Livingston took first place in the heats over 60 meters hurdles with 8.32 seconds. This qualified her for the finals where she maintained her first place finish with a time of 8:40, placing her fourth for the event in Villanova history.
Three Wildcats competed in the heats for the 600-meter dash, in which senior Trinity Hart finished 7.89, junior Alexis Martin 8.06, and senior Olivia Morgan 8.28.
In the 400-meter event, graduate student McKenna Keegan took first place with a time of 54.71.
Junior Madison Martinez clocked a time of 1:15.12 in the 500-meter race to secure first place for the Wildcats, while freshman Alex Stasichin followed in third place with a time of 1:16.00.
Another top finisher, junior Anna Helwigh, competed in the 1000m in 2:51.76, followed by junior Nikki Merrill, who finished seventh with a time of 2:58.16.
Graduate student Jul Thomson finished in the top 10 in the weight throwing competition, throwing a distance of 16.55 meters. Thomson also finished fourth in the shot put with a new personal best of 13.38 meters. Senior Emily Galvin threw 16.15 meters in the weight throw event, placing her sixth in the record books. Galvin also competed in the shot put, throwing 11.50 yards, while graduate student Samantha Stevens threw 13.73 yards in the weight throw and 12.45 yards in the shot put.
Senior Liv Morgan also competed in the shot put, throwing 10.15 meters. Morgan also performed in the 60-meter dash and ran an 8.28. She is expected to compete in multi-events later this season.
Villanova was second through fifth in the mile on Saturday, with junior Maggie Smith second in a time of 4:41.07. Senior Lydia Olivere, who finished less than 0.6 seconds behind Smith, was third in 4:41.59, followed by rookie Sadie Sigfstead in 4:51.89, all three new personals marked best performances at this event. Freshman Emma McGill finished fifth with a time of 4:55.61.
In the 4 × 400 meter relay, Villanova was second with a total time of 3:49.16 as junior Alexis Martin started the race with a time of 59.32, followed by Martinez with 56.76, Keegan in 54.00 and Stasichin finished with a 59.08 split.
Other notable events include senior Ashley Preston, who finished third in the pole vault, clearing 3.70 meters, and student Roschel Clayton, who finished second in the high jump, clearing 1.70 meters.
Villanova returns on Friday, January 28 when it travels to Boston University to compete in the John Thomas Terrier Classic.