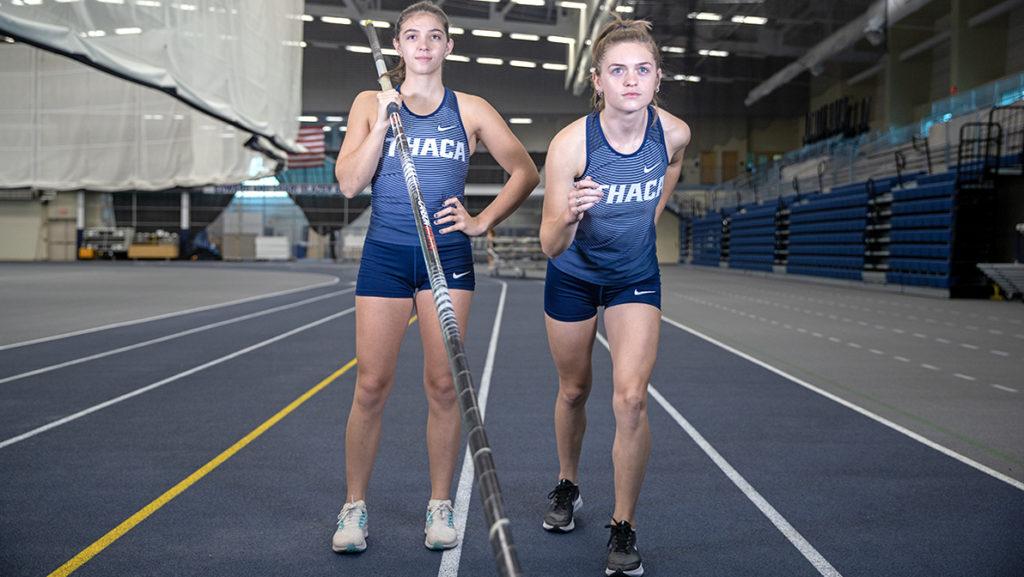 Women's track and field team on course for another conference title
After a triumphant spring 2022 outdoor season that saw the Ithaca College women's track and field team finish 28th in the country, the Bombers are poised to resume competition for their indoor season.
The Bombers finished a 2021-22 indoor season in which they finished third in the NCAA championships on March 11-12. Meghan Matheny, who was a senior at the time, First in pole vault, while then-senior heptathlete Logan Bruce and then-pole vaulter Sara Altonen delivered All-American performances to lead the college to third place. Then-junior sprinter Tia Jones also achieved two second places in the 60 and 200 meter dashes.
Additionally, Matheny, Altonen and then-junior pole vaulter Martha Kemp-Neilson were named All-Americans in May following their performances at the NCAA Outdoor Championships in Geneva, Ohio, on 26.-28. May.
Although several key members of the team graduated last May, head coach Jennifer Potter '92 said she is excited about the future of the program.
"You keep using the word 'energy' in the weight room and training," Potter said. "I think of the teams ahead of us and what we can do with this tradition of success, that is what our women stand for."
The Bombers enter the indoor competition after winning the last one 14 consecutive conference championships between indoor and outdoor season and also sent five women to the NCAA Outdoor Championships. The team will look to continue their recent streak of success and continuity when the competition returns indoors.
Potter said one element of the upcoming season that will greatly benefit the team will be fewer COVID-19-related restrictions. The Bombers lost three seasons in the 2020–21 calendar year to the pandemic.
"Living in constant fear of 'wsick COVID[-19 end] another season?' That stuff takes a lot out of you," Potter said. "Now we can just breathe and get back to normal."
Potter also stressed the importance of managing expectations from year to year as well as maintaining a strong culture of camaraderie and kinship. Although athletics isn't typically known as a team sport – athletes compete individually for a team score – Potter said she feels one of the team's greatest strengths is its sense of togetherness.
"A lot of people just assume that athletics isn't a team sport, and I feel like our program is the exact opposite of that," Potter said. "We're a strong program from top to bottom and we want to keep that thought process going."
Altonen, a junior pole vaulter, said the team has grown closer through shared off-track experiences, like cooking competitions with the coaching staff. She said these types of experiences help keep a team's morale and camaraderie at high levels over the course of a season.
"It's just a really good opportunity to get to know the team outside of practice," said Altonen. "The biggest thing for me is getting comfortable with pushing myself and having the captains drills and the chances to bond with the team has been great."
At the start of her first season as a senior, Altonen also said she felt a sense of mentorship and responsibility towards the younger athletes. The team goes into the indoor season with 29 underclassmen.
"This year, a lot of seniors were loud in the lift room, encouraging everyone to put on more weight," Alton said. "We want to encourage everyone to be communicative to be the best team we can be."
At the start of the season, Altonen said her individual goals are to win a national title as well as secure another All-American honor.
Senior long jumper Sara Brown said one definition of success for her as captain is watching the other women on the team set personal records as well as stay healthy.
"Seeing my teammates achieve their goals [is what a successful season would be to me]' said Brown. "We always talk about our goals at the beginning of the season and see how the other girls achieve what they set out to do … both mentally and physically [is important]."
Potter added that managing the transition from outdoor to indoor competition is another critical factor in team success. She said the coaching staff designs the training schedule to ensure every member of the program is ready for their event year-round, even if that includes training for outdoor competitions while the indoor are still running.
"We had to launch some of our outdoor events during the indoor events otherwise we wouldn't have enough time to prepare," Potter said. "It's a lot of careful design of training and programming, and the coaching staff always has to be on our A-game."
The Bombers begin their season December 3 at Cornell University in the Greg Page Relays.