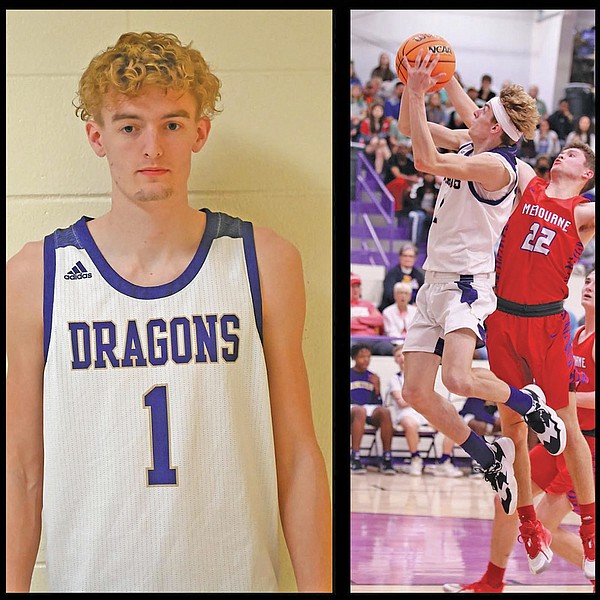 The high school athletic year in Junction City was… weird. The Dragons failed to make the football playoffs for the first time in ages. Junction City hosted the 2A State Basketball Tournament for the first time in ages, with the Dragons losing in double overtime in the quarterfinals.
Ryan Allen played on both teams and probably thought his career would end in heartbreak. But the senior anchored the 4×400 relay that won the 2A state track championship.
"Ending my sporting career at Junction was nothing short of a blessing. It was the best way it could have ended," said Allen, who is a finalist for News-Times Scholar Male Athlete of the Year.
Allen ended his high school athletic career with an exclamation point. It was a question mark just a week earlier.
The Dragons 4×400 relay came second at the district meeting. Allen said the combination of Alex Prado, Jakorean Key, Demarrion Henry and himself only ran together twice, at district and state meetings.
So, winning a state title was… weird.
"I think it surprised a lot of people, including me," Allen said. "Prior to this year none of the guys had managed that before. All four of us were new to this event. We just got together and found out. We got better every time we directed it. I think from Wednesday to Tuesday we cut our time by 13 seconds, which is unprecedented."
Allen, who finished fifth in the state's singles 400, said he was about two paces ahead when he received the baton and ended up winning by about 10 yards.
"It's a lot of pressure, especially being in that position where you know all the other anchor legs are the fastest guy the other teams. If you get it, if you have a head start, if you lose it, the loss is yours. he said. "In basketball, I've been in pressure situations so many times. It's just, get out there and do what you always do."
Junction City qualified for the Meet of Champions but didn't go because it interfered with Allen's class work.
"I had an AP biology exam the same day. You do this test in the afternoon. You can't do it in the morning," he explained. "All four of us got together and talked about it before Coach officially said we weren't going to direct it. We were kinda disappointed. We were looking forward to competing again."
For Allen, academics always come first. He graduated with a GPA of 4.0877 and was a class salutator. He scored a 32 on his ACT and plans to attend Cornell College in Mt. Vernon, Iowa, where he will play basketball and be an undergraduate medical student.
"I know that I want to study medicine. I think I want to go into orthopedics and be an orthopedic surgeon," Allen said. "I've known my entire life that I wanted to build a career where I could stay with the sport. It was such a big part of my life. We had an athletic trainer in Junction a few years ago. He got my interest in the medical side of it. I thought about doing sports training. The more I learned about anatomy and physiology, the more I began to love medicine. I've dealt with it again and again. Orthopedist, I can specialize in sports injuries and work with patients who have injured themselves playing sports they love."
Allen credited former Junction City athletic coach Charlie Wardlaw with sparking his interest in the field.
"Coach Charlie kind of took me under his wing. He taught me while he was making stuff," Allen said. "I thought exercise was pretty cool. It just evolved. I took a course in my sophomore year – Introduction to Medical Terminology – or something. It wasn't just medical terminology. It taught you a lot of things and I enjoyed it."
Athletics was Allen's greatest sporting achievement. But his true love is basketball. He led the Dragons to the regional finals and the state quarterfinals.
"My senior year was very special," Allen said. "We surprised a lot of people in the basketball season. A lot of people thought we were down because we lost a lot of people. It was a good feeling. I think it made the fans feel good because football was a little There was something on the bottom for the basketball to step up and take over."
Allen said basketball has been an important part of his life since he was 4 years old. As a third grader at Hickory Flat, Mississippi, he was manager of the college basketball team.
"I always dreamed of playing college basketball. I never really knew if I could make it happen," he said. "Just going to such a good school, their medical program is great, and having the added bonus of being able to play basketball is unreal."
Interestingly, before he got bitten by the medicine virus, Allen thought he wanted to be a basketball coach.
"The coaching aspect is still an option. I can go to school and study biology and still be a coach. You can't go to school and study kinesiology and still be a doctor," he said with a smile.
As for his high school career, Allen made the most of his four years at Junction City. His senior year saw him play soccer for the first time, blocking on the edge of wide receiver. He even got a touchdown.
"The hardest working kid I've ever seen. Works just as hard in the classroom as he does on the field," said Brad Smith, Junction City football coach.
"Ryan is an outstanding leader and person. He represents himself, his family and Junction City in the best possible way," said Junction City basketball coach Kendall Hutcheson. "His character and work ethic are contagious. He is such an ambitious person and that drives him in every aspect of his life.
Ryan and his family have been incredible for the Dragon family. We will surely miss Ryan on the pitch, but also in the hallways and classrooms in Junction City."
Few could balance the student and the athlete as well as Allen, who found time and energy for sports and teaching.
"I value my academics. I always have," he said. "It was the most important part of my career, not just in high school but throughout high school. I always understood how important it is."