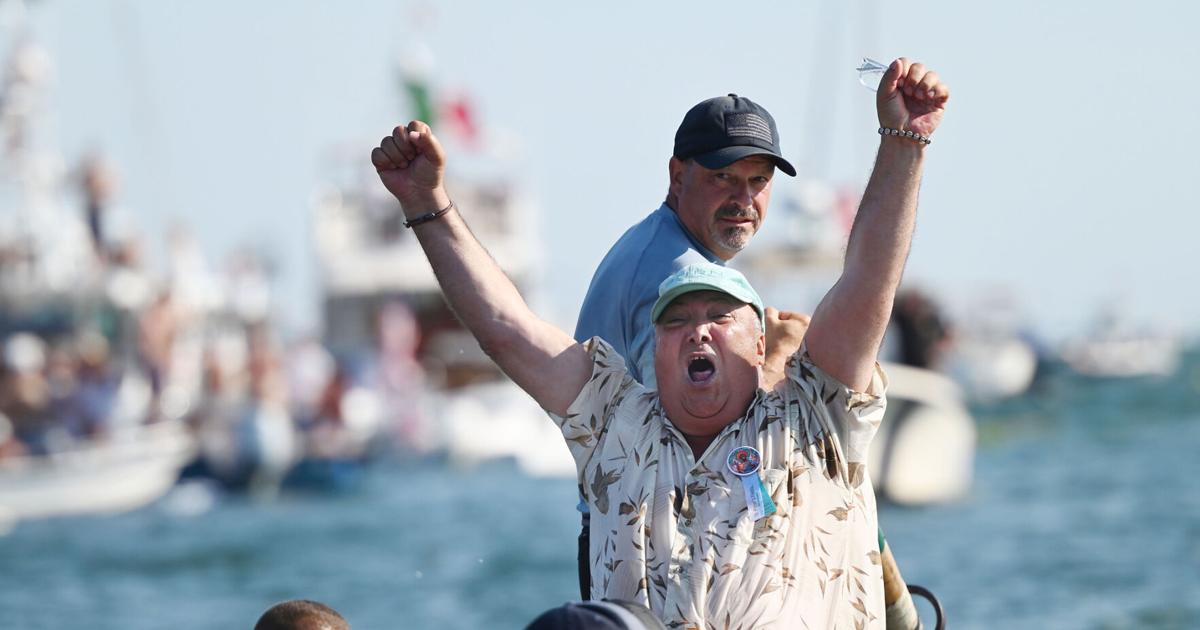 ZFG captures the audience in the Men-Seine-Boot | Sports
Helmsman Paul Giacalone knew his crew, ZFG, needed to make some serious adjustments after Saturday's qualifying race.
ZFG finished second on Saturday and by a decent margin behind winner Kaos, but still reached Sunday's final against defending champion The Merger. ZFG was considered the underdog in Sunday's championship race, but Giacalone and company got back to work later on Saturday night to devise a new strategy. That strategy eventually worked perfectly as ZFG rowed an incredible race, beating defending champion The Merger by about a boat length and a half to secure the crown in the men's Seine boat.
Since Kaos won three consecutive times from 2009 to 2011, no men's team has repeated it as champion with the win, nine straight competitions.
"We knew what we did wrong on Saturday and we fixed it today," said Giacalone. "The guys are really strong and we knew we had to make adjustments. I'm so proud of how they drove today."
It was a nearly flawless performance for ZFG, whose name is open to interpretation, after a strong start from all three crews it was a nip-and-tuck race for most of the way to the pin, which is half a mile from Pavilion Beach away is .
As the crews neared the flag, Giacalone made a move, as did the Merger, led by helmsman Vito Giacalone Sr., making it a two-boat race home as Scuttler Mike Harmon and The Merger Scuttler Joe Balbo both had good flag turns.
ZFG, rowing in the Santa Maria, had a slight lead coming out of the turn but made another move and extended that lead to a boat length about halfway through. This lead was held for a while and then widened to half a boat as the crews hit the beach and ZFG fought off every push The Merger made in the second half of the race. Battling the wind and choppy waters of Gloucester Harbour, ZFG stayed on the ball and demonstrated the teamwork it takes to get the job done.
"It was a windy day," Giacalone said. "We were getting strong, the guys were really strong out of the pin and on the way in we were rowing with the waves our way in. We have some young 22-year-old guys in our boat who are winning for the first time and a bunch of veterans, also former champions, so it's great for them and great for the sport.
The performance was the polar opposite of Saturday's race, as ZFG got off to a slow start out of the gates, trailing Kaos, Sunday's third-place finisher, all the way. But as great crews do, Giacalone and company quickly turned the tide and took the championship.
Family strokes are repeated among the juniors
It was a wire-to-wire win in the Jr. Men's Seine Boat division. The 2019 Family Strokes champion entered as a favorite and showed everyone why they are the defending champions despite a three-year hiatus. The now two-time Jr. Champions led from start to finish in Sunday's finals, defeating Naughty Bouys and Renegades for the win. It also saw helmsman Jerry Ciaramitaro and scuttler Alex Rodolosi win both races back to back as they were rowers for ZFG.
Naughty Buoys made a big comeback to knock Renegades into second place.
Herren Sr. His boat champion ZFG: Paul Giacalone (helmsman), Mike Harmon (cutter), Peter Mondello, Vincenzo Terranova, Jared Morris, Gilbert Brown, Peter Taormina, Sam Taormina, Alex Rodolosi, Kellen O'Maley, Jerry Ciaramitaro, JJ Pallazola.
Herren Jr. His Boat Champions Family Strokes: Jerry Ciaramitaro (helmsman), Alex Rodolosi (Scuttler), Dan O'Leary, Robbie Schuster, Aidan Cornetta, Tim Marrone, Ryan Frates, Anthony Simonelli, Jack Costanzo, Avery Emerson, PJ Zappa, Keith Horne.